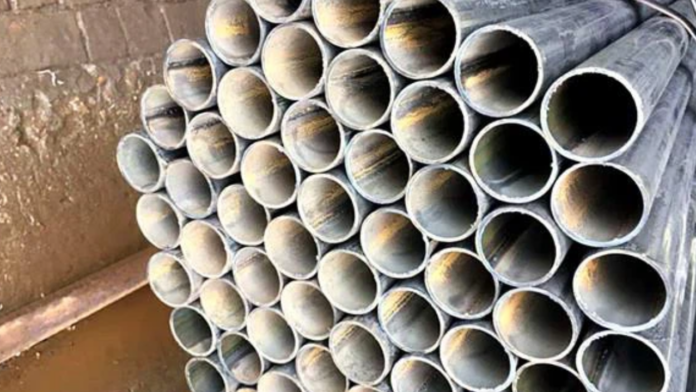 For Electric Resistance Welded (ERW) steel pipes that transport water, gas, mist, or another liquids, ASTM A135 type B steel is employed. Firefighting applications also frequently employ this type of steel. ASTM A135 Grade B pipes are suitable for high-pressure applications, such as the transportation of gas, vapor, water, and other fluids, due to their chemical and mechanical properties. ASTM A135 Grade B pipes are also used as fire sprinkler pipes in several countries.
After welding or processing in a way that removes any untendered marten site, electric-resistance welded pipe's weld seam to Grade B pipe must put heat into it. This criterion contributes to the greater strength and ductility of the ASTM A135 Grade B completed pipe. Furthermore, the heat treatment aids in preventing the weld seam from corroding. The ASTM A135 specification is crucial for individuals requiring long-lasting, premium pipes for their vital uses.
For What Reason Are ASTM A135 Pipes Painted Red?
In order to be immediately seen in the event of a fire, water pipes are usually painted red. Heat is often what triggers fire sprinklers, and the water is released through sprinkler heads placed all over the structure. Water damage is usually minimized because, most of the time, only the sprinklers nearest to the fire will turn on. Any fire protection system must have fire sprinklers since their use can help save lives and property.
Specifications of ASTM A135 Grade B Pipe
Below are some general specifications for ASTM 135 Grade B pipe:
Size Range
Normally, the size range of grade B pipe varies according to the demand of the customer. The nominal diameters of the pipe range from 1/2 inch to 26 inches (21.3mm to 660.4mm).
Wall Thickness
Wall thicknesses ranging from Schedule 10 to Schedule 40 and Schedule 80 are offered. It is welded using sheets and strips of the same grade of carbon steel, ASTM A53 Grade B Welded Pipe. Beveled, treaded, and plain ends are among the possible varieties of pipes.
Length of Pipe
The pipes are typically 21 feet (6.4 meters) long, although various lengths can be supplied to meet the needs of the customer. Anyone who works with steel pipe will know that it is usually sold in lengths of 21 feet. Numerous theories attempt to explain this, but the true reason is most likely connected to its manufacturing history.
Material of Pipe
Since Grade B steel has a minimum yield strength of 35,000 psi (240 MPa), it is a type of carbon steel used to make pipes. Steel pipes normally help transport liquids such as water, mist, or gas. Additionally, it is utilized in water-based fire prevention systems, such as wet, dry, reaction, or deluge sprinkler systems, for water distribution or valve trim applications.
Manufacturing Process
Industrial electric resistance welding (ERW) techniques are used to create the pipes. Without the inclusion of unnecessary material, the pipe must be made Individual lengths of flat-rolled steel (plate) or continuous lengths using electric resistance or electric induction welding. To put it plainly, filler metal is not needed.
Surface Finish
More often than not, the pipes come unfinished or black. However, you can ask to have them hot-dipped galvanized. Everything depends on your needs and your preferred level of surface finishing.
Testing and Certification
To make sure they match the necessary mechanical qualities and quality requirements, pipes go through a number of tests. The hydrostatic test, bend test, flattening test, and non-destructive electric testing are a few examples of these tests. The only process used to create A135 is electric resistance welding. Hydro testing may be substituted with nondestructive eddy current or ultrasonic testing under the A135 standard.
Final Words
Water, vapor, gas, and other liquids are the main applications for the Standard for electric-resistance-welded steel pipe, ASTM A135. Types of carbon steel that have minimum yield strengths are designated with a grade B. To manufacture high-quality pipes that will satisfy their customers' demands, companies have to go by a number of standards, including ASTM A135.