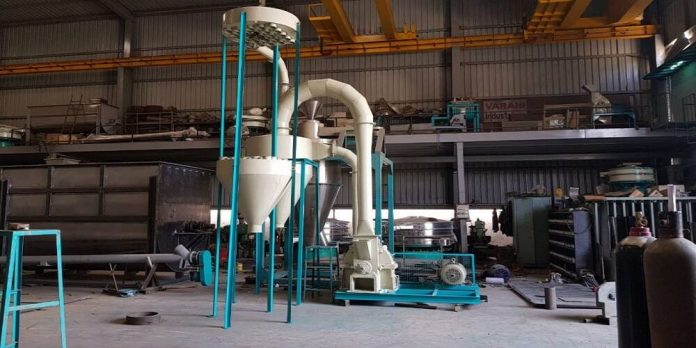 Impact pulverizers are often described as grinding units, used for grinding a variety of raw materials. Before sourcing for an impact Pulverizer machine price, it's necessary that you first find out what an impact pulverizer is. Keep reading this piece to find out more.
How Does An Impact Pulverizer Function?
The impact pulverizer contains a Whizzer classifier and swing hammers enclosed in a rotor. Usually, these contents are used to improve fineness and create gradient pressure kept on a strong shaft. During pulverization, the raw material is put into the crushing chamber using the automatic rotary feeder or hopper. The hammer helped to reduce the raw materials to a smooth powder.
Additionally, there's also the ground material which is taken to the Whizzer for classification. Here, the classifier doesn't accept the oversized particles, so they are sent back into the crushing chamber. Here further grounding occurs.
Finally, the material being classified is put into a cyclone where it's collected and bagged. There's always a dust collector to ensure that all operations are dustless. The grounded powder is also secured through this means.
Application of Impact Pulverizer
There are a variety of things that the impact Pulverizer can be used for. They can be duly applied in the following areas:
Chemicals
Agriculture
Coke
Coal
Wood sawdust
Detergents
Plastics
Insecticides
Other things that impact pulverizer can be used for are resins, Fuller's, good products, dye, clay, pesticides, etc.
Impact Pulverizer – Features
There are several outstanding features of the impact pulverizer; these include:
Durable
It helps you gain easy access to the interiors of impact pulverizers
Come with high speed
Exists in a variety of shapes and models
Large construction
Construction of Impact Pulverizers
Here's how impact pulverizers are constructed:
1. Type
It usually comes in an air swept impact mill, coupled with a classifier (Whizzer), in a sealed or closed circuit.
2. Body
The body of an impact pulverizer is made up of solid iron, which often machines and arranged on a powerful iron base. This strong iron base comes with bolted top covers.
3. Feeder
The feeder here is an automatic rotary feeder. It consists of a gear that drives it from the major shaft using the feed control method of operation.
 4. Crushing chamber
Its crushing chamber is made of strong iron breaker plates.
5. Classifier
This is a soft steel whizzier which has a spider (adjustable). It's used to control the smoothness of the powder to 300 mesh and this depends on the kind of raw material being used.
6. Rotor
It's soft steel with thick plates, kept on the main shaft. It's also called solid alloy steel.
7. Bearings
The bearings arrange themselves in the cast iron house. They go well with grease cups and are used for lubrication.
Other parts of a standard impact include:
Cyclone
Hammers
Blowers
Piping
Conclusion
Impact pulverizers are specially made to help ground raw materials into a fine, minimum size powder. The most important details you need to know are listed in this article to serve as a guide when you want to make a purchase.