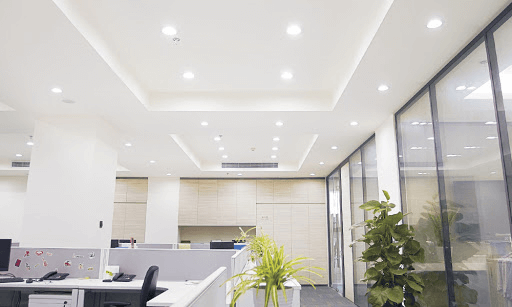 The LED lighting is still favorite indoor lighting when it comes to applications that need relatively small lights in challenging to reach areas that are not necessarily suited for larger areas. In such cases, conventional lighting solutions such as compact as well as fluorescent bulbs can be used. Perhaps it is important to note that what LED indoor lighting has not been used for in the past is in larger applications such as wall-mounted areas or ceiling.
And for some time, LED types of lighting were never powerful enough. They were also not as economical or cost-effective in any way. This is in comparison to the conventional lighting solutions when illuminating a whole room to the desired requirement. This is currently taking a considerable transformation. LEDs are quickly becoming the best solution for indoor as well as outdoor lighting requirements, not just in residential but commercial properties as well.
The lights provide a preferably equal, as well as better comprehensive solution in every lighting application that you could ever think of. Here is how LED indoor lighting is making a viably huge impact on your facility.
LED Ceiling Lighting
There are different LED ceiling lights. This implies that you have several choices. But your preferences can be based on two options, namely:
LED light bulbs– these are also known as lamps. They replace the existing bulbs in different ways. Where there are no bulbs, for instance, in new construction, they involve specifying traditional fixtures followed by selecting the right LED lamps, which could be compatible with the fixtures chosen.
Integrated LED lighting– integrated LED fixtures are a single complete unit. The lighting product can easily connect directly with the track as well as the primary line voltage. Therefore, if you happen to have any form of existing fixtures, then this option involves the removal of the fixtures altogether.
Tracking LED lighting bulbs– popular in different retail stores for their nature of flexibility and mobility, LED tracking light bulbs are known as a viable lighting system where the rail carrying the voltage electricity runs on the ceiling.
On the other hand, track heads play the role of affixing the tracking light in areas where the length should be moved and then refocused on a specific space. And when it comes to the option of LED lamps, a lamp that has the desired output of a beam of light and color temperature traits should be mounted inside every track head. That way, the LED tracking lights can be effective in lighting pathways.
Take-Home
The lighting industry is facing a revolutionary mathematical conundrum with the rise in the use of LEDs. This technology has significantly increased the prices of different products sold. The longevity of these products, however, is going to reduce the sales volume quickly. Some product innovations, such as equipping lamps with communications capability, will significantly assist users.
Other LED lighting bulbs such as integrated LEDs will do the opposite. For that reason, we encourage you to focus on investing in various brands that are known for their excellent quality.